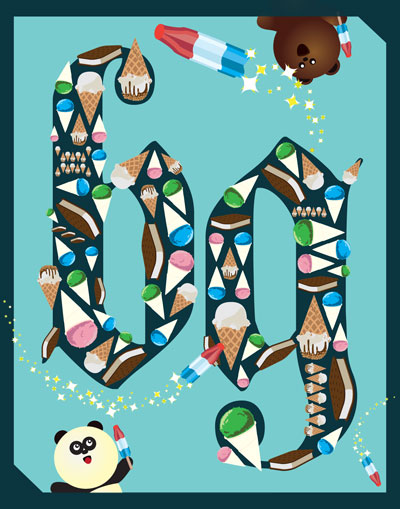 Posters
Working on campus as a graphic artist, the need for posters was almost without bound— which was great, since it's always a fun challenge to accentuate copy with eye-catching visuals.
Oversized typography? Seamless blend of the copy and imagery? A happy medium? Determined per project.
Bear Garden Ice Cream (left)
A quarterly event at UC San Diego, Bear Garden is a beloved tradition akin to Beer Garden. This poster was made in celebration of the first time an ice cream truck made its debut.
Artoberfest
The 3rd Floor
Welcome Party
A ode to Oktoberfest, a poster simulating a beer label was made to draw attention and quickly let people know what was going on.
An interactive "choose your own adventure" video game held by Triton TV, a logo and posters were created to accompany the atmosphere of the sometimes creepy, but always fun game. PS. There is no third floor.
While volunteering during a trip abroad to refine my French, I got to design Autour du Monde — ESN Nantes' Welcome Party poster to invite new ERASMUS students to come out, dance, and make new friends!