build The Unhangry Toolbelt business_center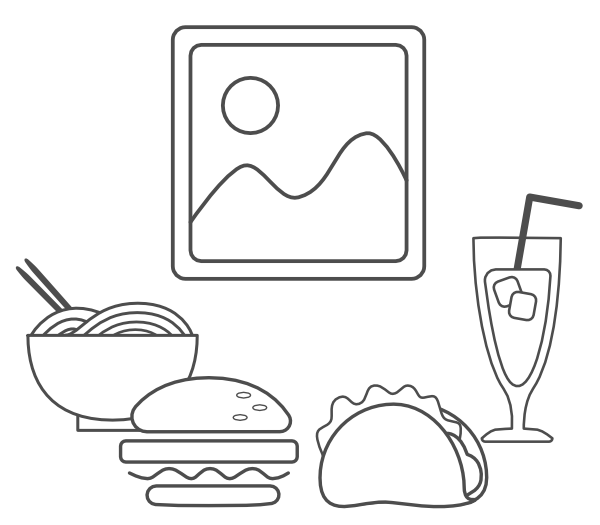 Checkout nearby delicious food and their restaurants
Beat indecision with our HelpMeDecide cravings quiz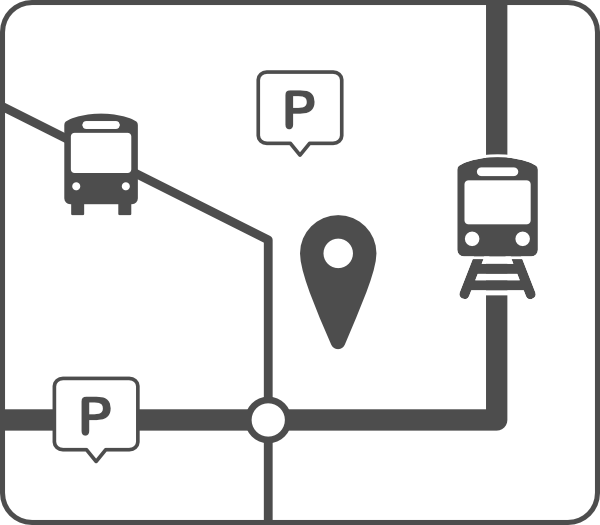 No car or don't feel like parking? Unhangry will show you the way with our offline public transport maps*.

filter_1 What I produced
Wireframes and screens of validated features
I explored many features and decided, for the first iteration, to focus on photo discovery, help with indecision, and public transit/ parking to get people where they want to go.
my_location Photo discovery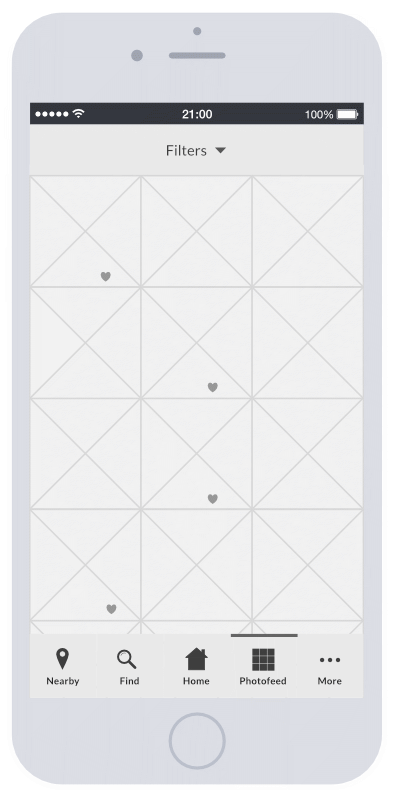 Frustrated with being teased by unattainable food from faraway? Unhangry is here to end it. Our FeedMe stream shows you photos of what's cooking nearby and local businesses with neat atmospheres to soak in. Tap and hold to save or get directions, double tap to like, or tap to enlarge for more information.
explore Help Me Decide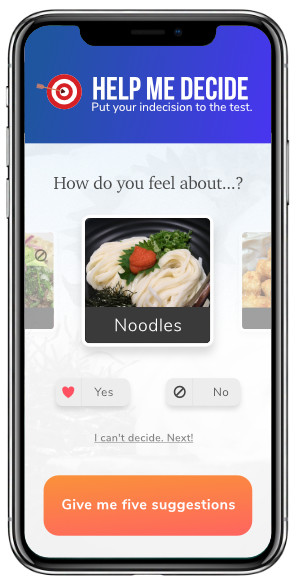 Sometimes we're not sure what to eat. Sometimes our friends want suggestions but shoot them all down. That's where HelpMeDecide comes in. Take the short quiz, on your own or with friends (shareable links) and get some suggestions and directions.
directions_transit Transit Maps
Whether or not driving in a busy city tickles your fancy, Unhangry is here to help. Plug in an address and see nearby public transportation and parking lots. Add in your location or point of departure to get some recommended itineraries.
Back to the Table of Contents
filter_2 How I got there
(and lessons learned a.k.a. my UX process)

looks_one Feature Discovery
Interviews arrow_forward Affinity Diagram arrow_forward Personas arrow_forward Customer Journey Map
Opened-ended interviews are useful but only if analyzed after to uncover trends, spectrums, and interactions. They are also useless if the insights are not memorable. Therefore, transform insights into personas. Focus on their behaviors (and not arbitrary details) though, but make them real by figuring out their backstory that drives these behaviors. They'll become like friends whose reactions you can predict, useful when designing.
---
There's no one funner than Sandra when it comes to food and drinks. She's always noticing new places and knows just what streets to take, where to find the best parking , and what that new trendy superfood is. Her friends and coworkers wonder how she always has so much energy. She positively glows when they tell her about how they loved her recommendations. You're sure you've never seen a smile so wide. Just make sure to schedule in advance. Her husband and two children ensure she's often booked way in advance.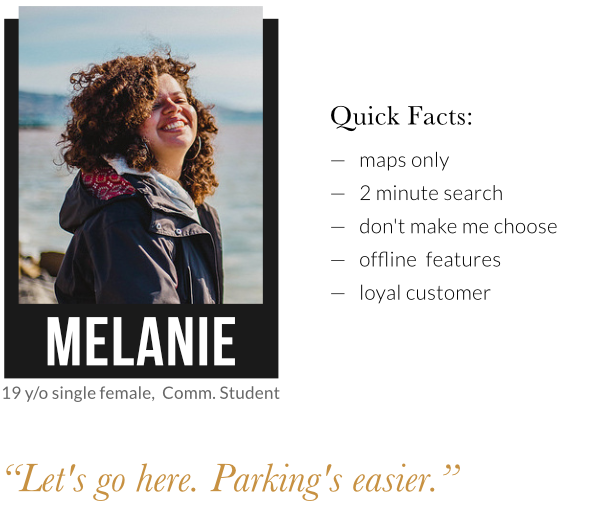 Melanie is loud, but in a good way. People love to hang out with her, even ones she's just met. Easygoing and with plenty to say, She thrives in a crowd. She's not good at recommending places though. She just doesn't care about food that much. Melanie mostly cares about a place being nearby or convenient to get to. For her, time spent with friends, not what people shove in their mouths, is what's important. As a result, time spent looking for places is time wasted.
---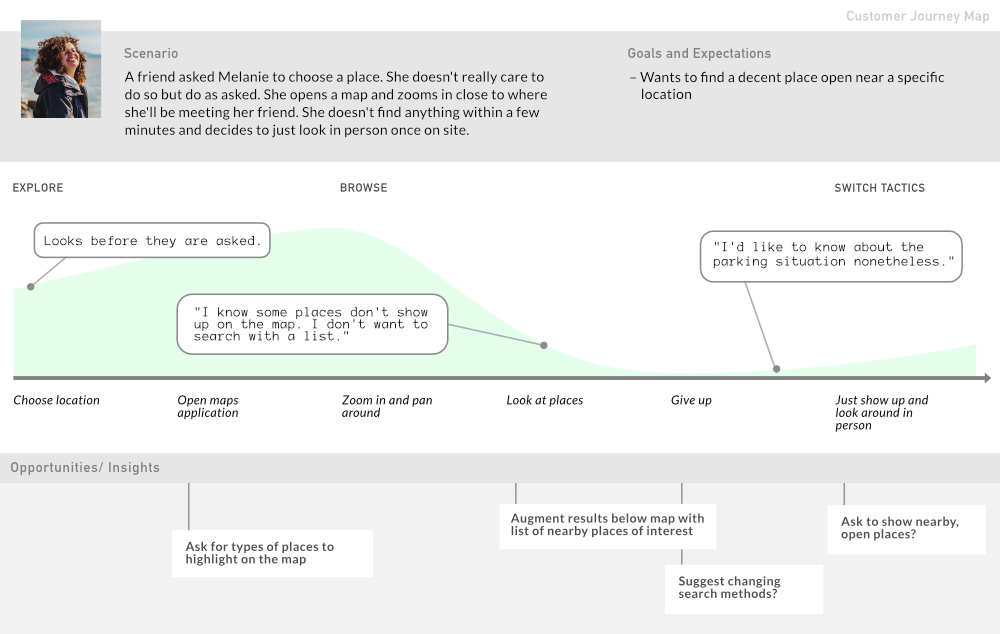 Melanie mostly uses maps and doesn't care to browse. When that fails, she'll just give up, although she's still interesting in getting parking or public transportation information. The problem is that the listings aren't always available on the map. How could I transform Melanie's journey into one that goes and stays up?
The problem is that maps (such as on Google) often take ages to be updated so browsing that way and not via a list often results in outdated and irrelevant maps. An immediate remedy is to make sure that the map views are regularly maintained. Also, adding in public transportation and parking information would probably make this map more useful for Melanie
---
looks_two Feature Ideation (iterative)
Sketching and wireframing
To begin, I play with just sketching whatever's in my mind for 10 minutes.
Afterwards, with some ideas uncovered, I aim for quantity-based ideation, aiming for forty different ideas before stopping.
looks_3 Feature Validation
Feedback
A visual and a brief description helped me gauge interest as well as detect points of confusion. I rated utility, interest, doubts, and confusion.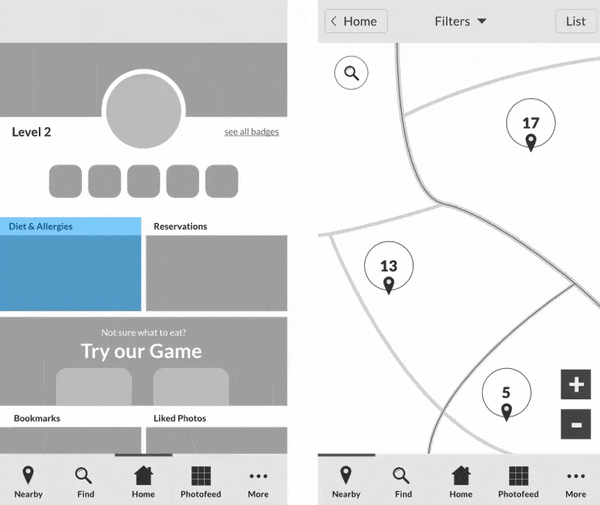 looks_4 Features Prototyped
Testing
Testing proved crucial as once again I saw that "you are not the user" and UI that should have been straightforward or understandable were not at all.
For testing, I conducted paper prototypes as well as an interactive clickable prototype on Invision for remote users.
---
looks_5 Features, iteration
Wireflows and fidelity matters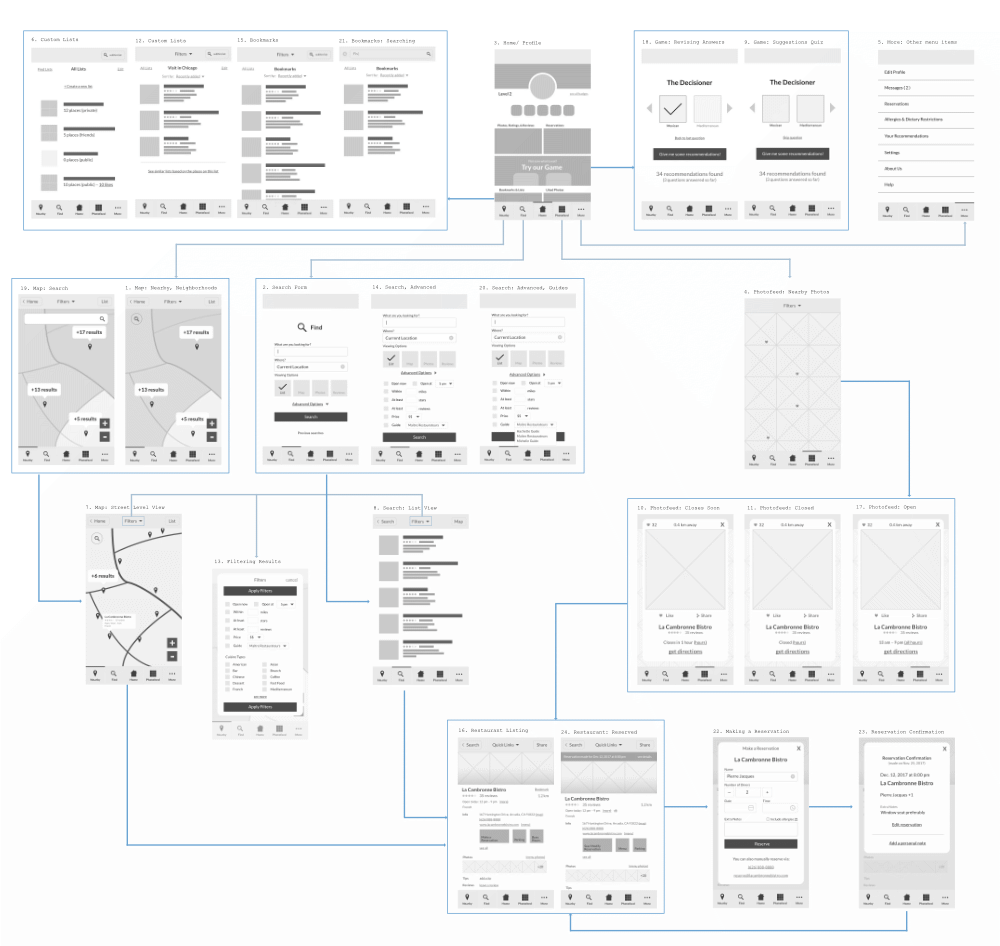 In comparison to a grid of wireframes, I find that a wireflow helps see the big picture to see global functionality as well as maintain flow as inconsistencies between screens and features jump out as your eyes can go back and forth in a flow seamlessly.
Before: (low fidelity)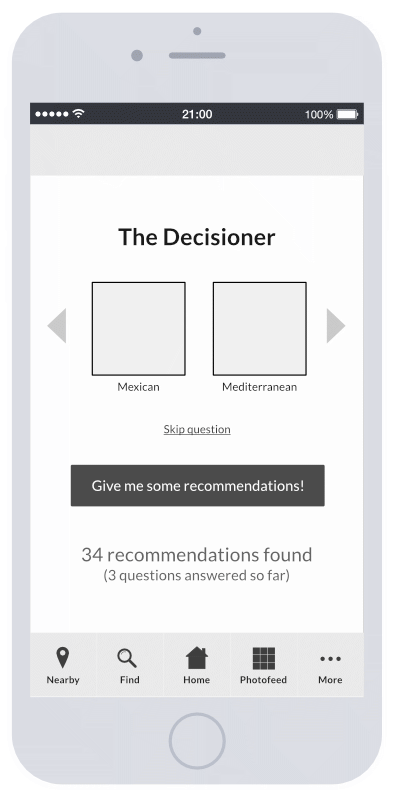 arrow_forward
After: (high fidelity)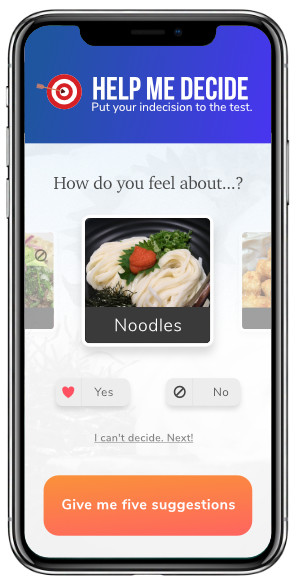 Although discoverable in testing, sometimes increasing the fidelity will already show cracks in your idea. Don't burden the users with wonky designs if it's easy to do otherwise. The new version not only allows for users to easily change their decisions, but also avoid choosing one option to the detriment of another when both are tempting.
Back to the Table of Contents
filter_3 Conclusion
Unhangry landing page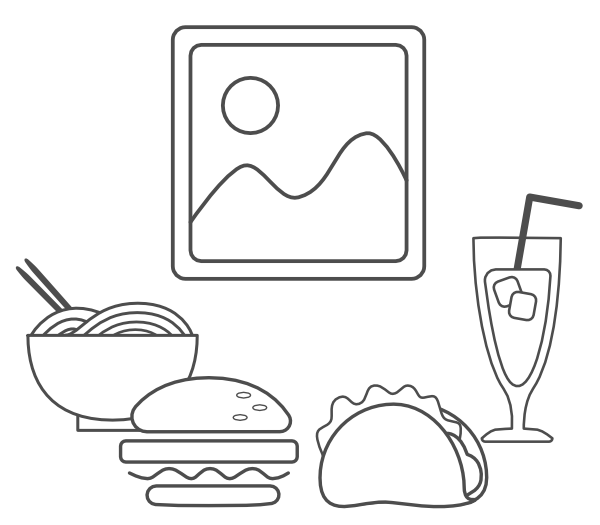 Checkout nearby delicious food and their restaurants
Beat indecision with our HelpMeDecide cravings quiz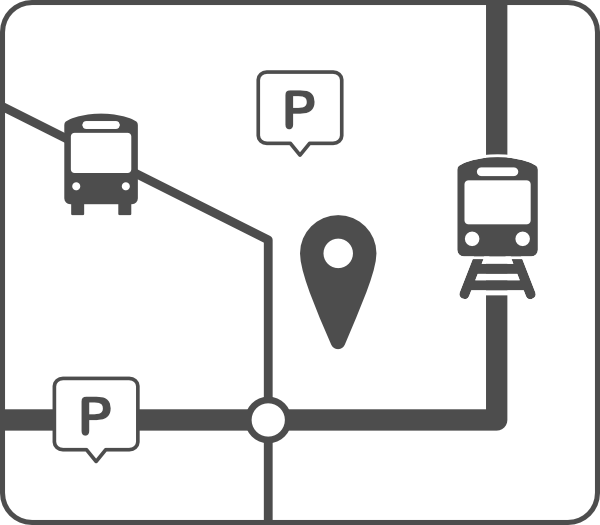 No car or don't feel like parking? Unhangry will show you the way with our offline public transport maps1.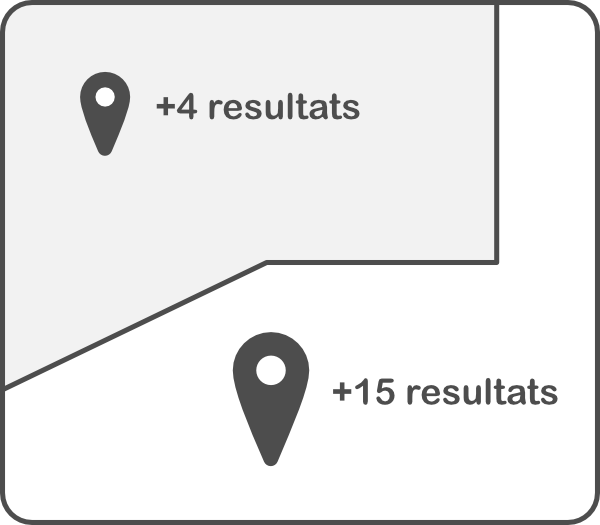 By grouping pins into zones, you can explore busy streets with ease. It's also useful if you want just a little help to decide what neighborhood to walk and explore in.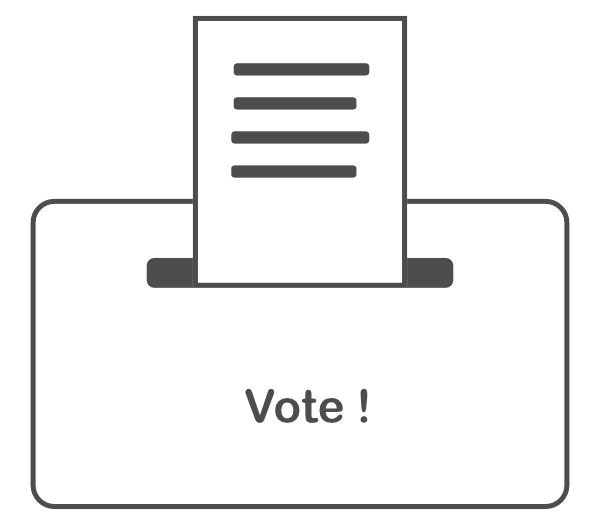 We love to hear what our Unhangry community wants. Come vote on your favorite features, or even add your own!
Vote in your favorite features

VOTE: Plan a lovely walk before or after your meal to discover quaint neighborhoods

VOTE: Filter through guides: Maître restaurateur, Guide Michelin, Gault et Michaud, Jonathan Gold's 101 Best Restaurants...

VOTE: Get recipes to recreate your cravings and based on previously attempted recipes. Then, we'll even post #nailed comparison shots after. Just kidding, we'll ask permission first as always2.
---
I hope you had fun reading this case study!
---
Copyright © 2018 - Irvin Fong